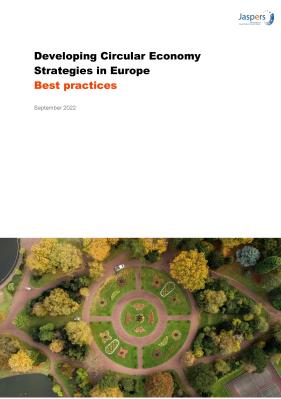 Description
In preparation of the European 2021-2027 programming period, JASPERS has started to advise national managing authorities of European funds, on how to integrate the circular economy policy objectives in: the national, regional and/or local strategic frameworks, the European fund operational programs and the project pipeline development.
An initial JASPERS finding is that national circular economy strategies are a cornerstone to develop and embed circularity. The present working paper provides an overview of existing circular economy strategies in Europe and of the emerging best methodological, implementation and monitoring practices. In working through the paper, strategy makers will understand which aspects and elements are attention points and key success criteria for the establishment of their own strategy.
This working paper comes with an accompanying Excel Database summarizing the 70+ circular economy strategies developed in Europe as of May 2021 that have been reviewed in preparation of this paper.